All landowners within the Leschenault Biosecurity Group's operational area will receive information packs about LBG Inc, a weed identification flyer and an info-magnet. The packs will be mailed out in August and provide landowners with material on declared pests, and how to identify and report them. As well as offering information about weeds and feral animals in the region, landowners will be provided with details of past and present pest management projects being run by the LBG.
Landowners are encouraged to place the info-magnets on their fridges or a prominent area to act as a reminder to report declared pests and contact Leschenault Biosecurity Group for support with their pest management.
The 2020/2021 Declared Pest Rate Invoices will be issued by the Office of State Revenue (Revenue WA) mid September.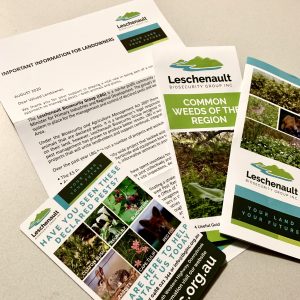 IF you have not received an Information Pack and would like to receive one, please contact comms@lbginc.org.au