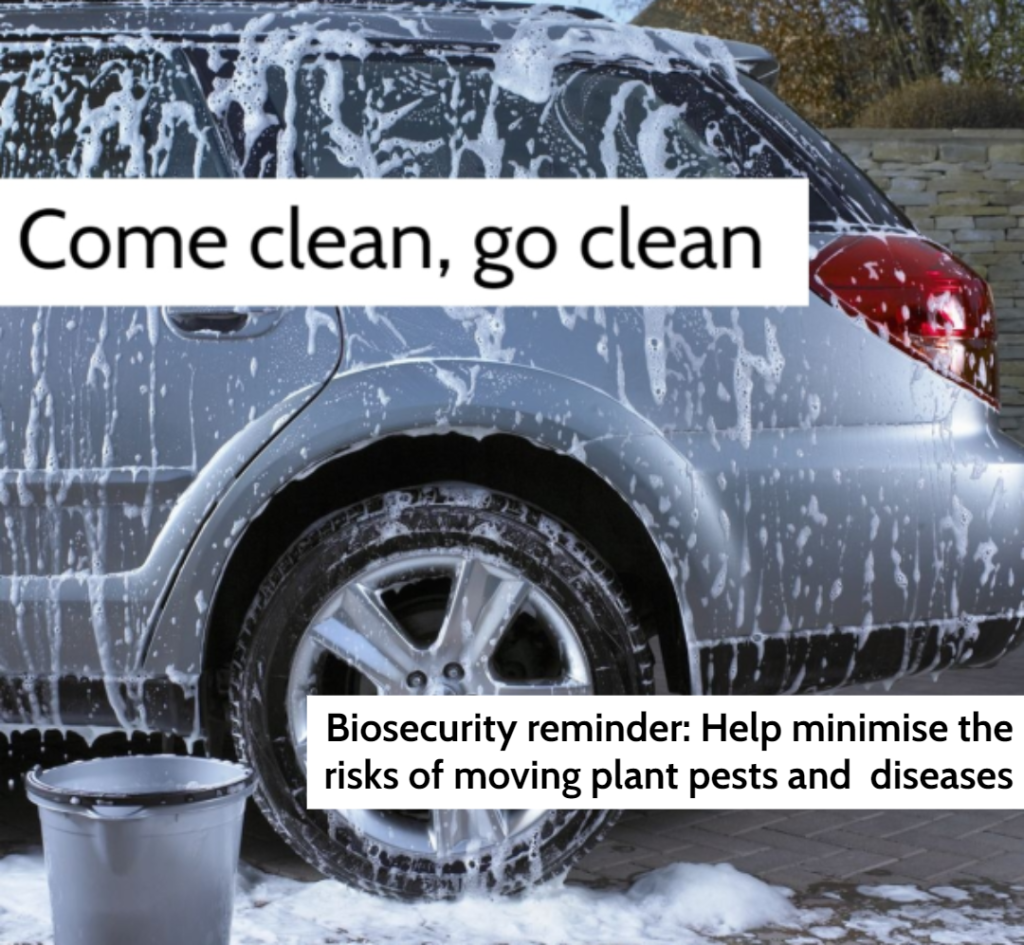 If it can move, it can carry pests, weeds and diseases.
Spring brings beautiful weather, increased travel….and a potential dispersal of prominent biosecurity risks to and from other regions. Weeds and diseases are among the most serious threats to Australia's natural environment & primary industries.  As spring arrives, it brings warm wet conditions providing ideal conditions for flowering, seeding & sporulation cycles of our most prominent weeds & diseases.  It also brings for many of us, the urge to get out and about, visiting tourist hotspots, wildflower regions and more.
Get out and enjoy our beautiful area, state and country – but please help prevent the spread of biosecurity risks through our travels! The season for getting off road, camping and in general, getting out and about is here.  Specifically in Western Australia, thousands of people from around the state are expected to attend large annual events, as well as several on-farm field days throughout the Wheatbelt during spring.
Some easy tips to help protect us all:
When traveling to and from other areas, ensure that we clean vehicles, equipment, tools and clothing to minimise the biosecurity risk of spreading pests, weeds and diseases. They are often highly transportable, with ability to stick to clothing, hats, footwear, vehicles and equipment. Floor mats contain a diverse array of weed seeds. Among other risks, mud can carry fungal Phytophthora Dieback contamination, which is spread through the movement of soil and mud, especially by vehicles and footwear.
Leave clean – check and clean your shoes, clothes and car for weed seeds and dirt/mud that may dislodge in your travels.
Respect property boundaries – keep to gazetted roads or public access routes. Don't jump the fence or trespass and if visiting pastoral stations, ensure you follow their site entry or biosecurity signage.
Take only photos – wildflowers are protected and picking and moving plant material may move pests or diseases.
Don't 'send it out the window' – Please don't discard food waste out the window! Pests such as fruit fly may survive in fresh fruits – bag and bin any food waste.
Report anything unusual – spot anything that looks 'out of place?'. Take photos, record the time and location and report it! Pest animals, plants and plant diseases can be reported to DPIRD's MyPestGuide team or the Pest and Disease Information Service.
Have a great time…and drive safely! 
You can find more helpful advice at the following links:
Farm Biosecurity People-Vehicles-Equipment
Working on Farm? Help stop the spread of plant pests and diseases
Enjoy the view but stay out of flowering canola