As part of collaborative feral pig management in the South West, the Leschenault Biosecurity Group supported neighbouring Peel Harvey Biosecurity Group  (PHBG) in hosting a training workshop in May. Several landholders from the region undertook a Certificate III in Rural and Environmental Pest Management, delivered through Central Regional TAFE. It was the third time PHBG had hosted the training — which covers pest surveying, assessment and management techniques, as well as chemical preparation and application and understanding the Humaneness Assessment tool. The course included presentations, hands-on training and a visit to one of LBG's landholder's properties in Glen Mervyn.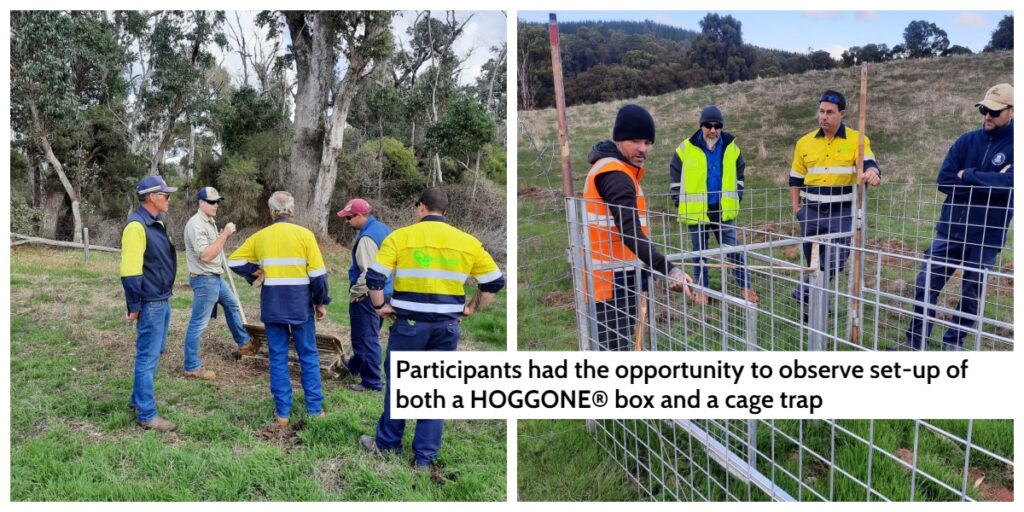 While covering a range of pests and best practice humane control techniques, there was a strong focus on pigs, given the impact the pest species has in the area. National Feral Pig Program support officer Narelle Dybing was among those presenting, emphasising the importance of training and integrated management for effective feral pig control. During the site visit, attendees had the opportunity to observe a set-up HOGGONE® box, as well as a cage trap. Western Australia Feral Pig Advisory Group (WAFPAG) member and LBG Executive Officer Kate Duzevich attended, joined by LBG Expert Member and Vertebrate Pest Management Contractor Terry Mondy and LBG Chair Morrie Goodz. Completion of the course provided landholders with the qualification required to become a licensed pest management technician.
It was a fantastic day out sharing knowledge and increasing the community's capacity to facilitate broad-scale pest management across the region.
LBG has a robust feral pig management program to support landholders within our operational area.
Find out more at: LBG's Feral Pig Management Program